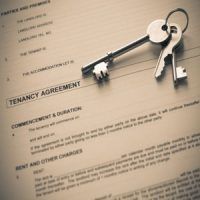 Know your responsibilities when renting
When renting, little problems can turn into big problems if you are not aware of who is responsible for taking care of the issues that may arise.
As a tenant you are obliged to do the following:

Keep the property clean
Not cause damage to the premises
Inform the landlord asap if any damage is done
Ask for the landlords permission to install fixtures or make alterations, renovations etc.
Avoid causing a nuisance to the landlord or neighbours
Do not participate in anything illegal on the property
The landlord is obliged to:

Keep the premises in good repair
Ensure the security of the property by making sure all doors have locks and windows are secure
Immediately provide the tenant with a key after changing any locks
Avoid disturbing the tenant unnecessarily
Once you have signed a lease / tenancy agreement and paid a bond you should be provided with a Condition Report. Outlined below. Check this report carefully and immediately discuss any issues you may have with the landlord.
Rental Payments
During the tenancy, rent payments are to be made in advance as set out under the tenancy agreement. Calendar monthly rent is calculated as follows: Weekly Rent / 7 days x 365 / 12 = Monthly Rental. If at any time you are unable to make a payment on or before the due date, please make immediate contact with your Property Manager. Our preferred method of rental payment is by DEFT. This is a quick and convenient process whereby rent can be paid over the phone, via the internet.. No responsibility will be taken for cheques left under our door. If making rental payments by mail, a receipt will only be mailed out if a receipt is requested and a self-addressed stamped envelope is provided. Should extra person/s decide to move into the premises after the lease has commenced, you are required to receive permission from our office. We ask that you advise our office as soon as possible and have any potential tenant/s complete a tenancy application form.
Bond
Your Bond will be lodged with the Rental Bond Board. The bond is held as security against any damage or undue wear and tear. The bond will be refunded promptly after you vacate, provided the property is left in as close to as possible the same condition as when the Tenancy Agreement commenced and there are no monies owing.
Condition Report
Upon signing the leases, you will be given a condition report. We ask that you check this thoroughly and add any additional comments you see fit. Please sign the front page and return the original copy to our office within 5 working days of receiving the report, retaining the carbon copy for your records.
Periodic Inspections
During the course of your tenancy, the premises will be inspected periodically by your Property Manager, after the required notice has been given. Our office will contact you in advance to make arrangements for a mutually convenient time. Thereafter, provided that everything is in order, further inspections will be carried out at twelve monthly intervals.
Tenants Contents
Please note that the landlords insurance does not cover tenant's contents, and the Landlord cannot be held responsible for damage (water) to or theft of a Tenants belongings.
Electricity, Water, Gas & Telephone
It is each tenant's responsibility to have the account placed in his or her name(s) and then to arrange to have a meter reading done prior to vacating the premises. All tenants are required to contact the relevant water supplier to inquire as to whether the property is separately metered. If the property is separately metered, please arrange for a meter reading and transfer the account into your name/s. The following are the contact numbers for these authorities:
| | | |
| --- | --- | --- |
| GAS: | AGL | Ph: 131 245 |
| ELECTRICITY: | AGL | Ph: 131 245 |
| | Energy Australia | Ph: 131 535 |
| TELEPHONE: | Telstra | Ph: 132 300 |
Repairs & Maintenance
All repairs are to be put in writing to our office.
Emergency Repairs
All repairs are attended to as promptly as possible, however it is often necessary to obtain the landlords approval and/or quotes before any work can commence, so unfortunately a time lag is sometimes unavoidable. Under the Residential Tenancies Act, we advise that the following can be considered urgent repairs: * BURST WATER SERVICE * GAS LEAK * BROKEN OR BLOCKED TOILET * SERIOUS ROOF LEAK * DANGEROUS ELECTRICAL FAULT * FLOODING OR FLOOD DAMAGE * FAILURE OR BREAKDOWN OF THE GAS * SERIOUS STORM OR FIRE DAMAGE * ELECTRICITY OR WATER SUPPLY If an emergency situation arises, and you are unable to contact our office, please call:
| | | |
| --- | --- | --- |
| PLUMBER | Trancon Services | Ph: 0419 147 259 |
| ELECTRICIAN | Gabby Fletcher | Ph: 0419 203 982 |
| LOCKSMITH | Phil Calleja | Ph: 0428 416 968 |
* If you are unable to contact one of the above then please refer to the contact numbers for the authorities listed further above these numbers
Termination of the Tenancy Agreement
Your Residential Tenancy Agreement is a legally binding contract, providing protection for both you and the Landlord. You can terminate the Residential Tenancy Agreement in the following ways: If you intend to vacate at the end of your Residential Tenancy Agreement you are required to give fourteen (14) days written notice prior to the expiry of the fixed term of your Agreement. Once the fixed term has expired you are at liberty to continue living at the property on a month to month where you are still bound by the terms and conditions of the original lease agreement, or to vacate. If you intend to vacate, written notice to that effect must be received by our office at least twenty one (21) days prior to the vacating date. If however, unforeseen circumstances arise and you have to vacate prior to the expiration of your Residential Tenancy Agreement please contact your Property Manager immediately and we will endeavour to assist you in finding suitable tenant/s. However, you will still be responsible for the rent until another suitable tenant is found as well as the payment of a letting fee, and all advertising costs.